W

elcome
Hello, and welcome to

G

o

T

arryn

!

Personal Training.

My goal is to help you meet your fitness
needs. Many people do not have the time
or flexibility to invest in a gym membership. That's what I am here for.

Whether you have a home, apartment, or office gym, I am available to come train you...at your convenience. After-all... IT'S YOUR TIME
IT'S YOUR INVESTMENT
IT'S YOUR LIFE

™
---
The Story of GoTarryn...
Tarryn is originally from Seoul, Korea and has been an exercise physiologist since 1997. Currently, he is a Doctoral Student at Grand Canyon University, in pursuit of achieving a PhD in General Psychology with an emphasis in Performance Psychology. Tarryn attended Concordia University Chicago where he graduated with his Bachelor of Exercise Science degree and received his personal training certification from the Cooper Institute. He began his personal training career at the West Cook YMCA in Oak Park, Illinois. Upon relocating to Atlanta in 2000, he continued working for the YMCA at the Alpharetta Ed Isakson Branch. From that point on, he went on to work as a personal trainer for many prestigious Atlanta fitness centers including the Concourse Athletic Club, the Perimeter Summit Health Club, the Plaza Executive Health Club, and the AT&T Health Fitness Center. Since 2004, he had worked his way up from working as a Wellness Coordinator, to Fitness Director, all the way to Program Manager which includes over seven years of professionally managing other fitness professionals.
---
...Degreed Exercise Physiologist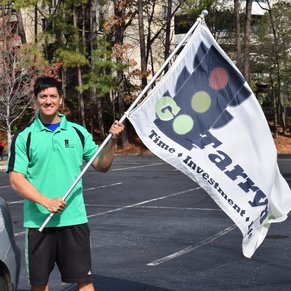 The reason he created
G
o
T
arryn
!
Personal Training was because he recognized a strong need in the Atlanta area that he wanted to help fulfill. Over his years of living in Atlanta, he has built a very large clientele list that he has consistently continued training, and he has discovered that personal training is his ultimate passion. He finds that it is the most fun and rewarding job that he has ever had. The greatest joy he receives from working with his clients is coaching them towards their goals and supporting them along the way. He strongly believes that you, the client, deserves the best value available.

That is why the mission statement of
G
o
T
arryn
!
is simple but straightforward:
---
IT'S YOUR TIME
♦
IT'S YOUR INVESTMENT
♦
IT'S YOUR LIFE
™
---